Assisting the juvenile cancer patient support group "STAND UP!!"
As part of the activities to boost the morale of patients with juvenile cancer, an informative magazine for juvenile cancer patients, "STAND UP!!" (free paper issue no. 1), has been published.
Ohara Pharmaceutical is attempting to make this free paper available at such institutions as university hospitals, regional cancer centers and hospitals specializing in paediatric cancer so that the activities of this support group become more widely known to patients with juvenile cancer. In the booklet, patients with juvenile cancer relate moving stories about their experiences with cancer. We are committed to providing ongoing support for this activity.
Support for the NPO "Asian Children's Care League"
The "Asian Children's Care League" is a non-profit organization that provides medical and welfare support for children with intractable diseases or those experiencing social difficulties, as well as supporting their families.
The activities of this NPO currently focus on paediatric cancer. While paediatric cancer can be cured in nearly 80% of cases in Japan, in developing countries, less than 30% of these children are cured.
Ohara Pharmaceutical provides support for these activities and cooperates with this NPO to improve treatment outcomes.
Inspection of pediatric medical facilities
Vietnam

Myanmar

Nepal

Laos

Cambodia

Philippines
Local contribution activities to Koka city, Shiga Prefecture
We contribute to the local society by supporting various local children's social contribution activities and also by challenging the development of orphan drugs, primarily in pediatric oncology, as well as the development of cost-effective generic drugs.
Fundraising for "child care support"
We have set up a "child care support" donation box in the free discussion space of our head office and R&D center and donate these proceeds to Koka city at the end of each fiscal year to support this initiative.
The donation box, which looks like an sculpture at first glance, is designed with the wish of "supporting children with everyone's love".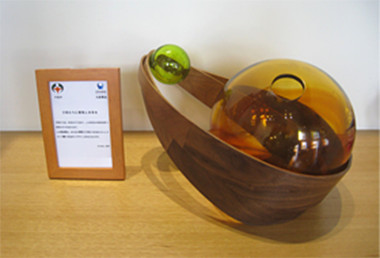 Gathering with social welfare corporation Koka Gakuen
Ohara invites children from the Koka Gakuen-operated orphanage, "Kafuka's House", and sponsors various activities, such as basketball & tennis classes with professional players, chemistry experiments, making cookies, BBQ and other activities which puts a smile on the faces of the children. These events have been held every year since 2012.
Medical worker training support business
An organization named "Mirai Support" (Representative Director: Seiji Ohara / Secretariat, Ohara Pharmaceutical) supports living expenses, housing, etc. for children who face financial difficulties to attend school to obtain qualifications to be come a nurse.
This project aims to resolve the chronic shortage of nurses in the city, as well as to enable these children to become independent and live an economically stable life. We have concluded cooperation agreement with Koka city in this regard.
The program is intended to support children who are scheduled to graduate from an orphanage or high schools in the prefecture and face difficulties in advancing to further education for financial reasons. The students must attend Koka Kango Senmon Gakko and upon obtaining qualifications to become a nurse, and must work for at least 3 years in a medical institution in the city.
Koka City will provides a share house as housingfree of charge, and Mirai Supportwill provide grants to support the living of these students to enable these children to achieve their goals of becoming a nurse.