Ohara Pharmaceutical:Our mission
Pharmaceutical products play a valuable role in maintaining human health and supporting healthier living. Our mission is to ensure that their key attributes are delivered to the patients who need them.
Leading-edge manufacturing techniques and stringent quality control procedures are essential elements in ensuring efficacy and safety in pharmaceutical products, but they are not the only considerations. Also important to the success of a pharmaceutical manufacturing and marketing company are such factors as highly motivated research and development, a reliable supply network, and an accurate information provision system. In our role as a supplier of essential pharmaceutical products, we seek to realize all of those elements.
Ohara Pharmaceutical aspires to be highly regarded as "a pharmaceutical manufacturer that responds to the needs of patients and medical professionals" by providing orphan drugs for treatment of conditions such as juvenile cancers, and as a manufacturer and distributor of high-quality, affordable generic medicines.
Every day, we renew our commitment to advancing our contribution to society through leading-edge research, breakthrough development and dependable delivery of safe, high-quality, efficacious pharmaceutical products.
Cooperation with stakeholders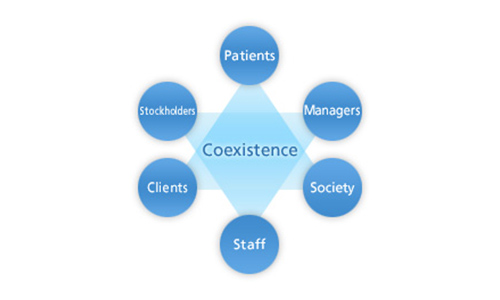 Stakeholders refer to all parties we are involved with in our business activities.
At Ohara Pharmaceutical, "creation and coexistence" is our mission and also how we express our relationship to and aspirations for all the parties we are involved with.
This mission involves creation of customer value and trust by always making patients our highest priority, fully meeting customer requirements and exceeding their expectations, and establishing a harmonious relationship with patients and medical institutions, as well as with distributors and other pharmaceutical-related businesses.
We continue to advance into a prosperous future forged in close cooperation with our stakeholders.
Orphan drugs (pharmaceuticals for rare medical conditions) business
We carry out research & development into orphan drugs as well as their manufacture and distribution as 〝a company that cares for individual patients.〟
In terms of demand, orphan drugs (pharmaceuticals for rare medical conditions) do not constitute a large share of the ethical drug market. However, since there are patients suffering from these disorders, there is a need for pharmaceutical companies to develop and deliver drugs for such patients. Ohara Pharmaceutical is involved in research and development as well as manufacture and distribution of many orphan drugs, including anti-cancer drugs, medications to treat leukemia.
We will continue in our endeavors as a company that cares for individual patients by actively incorporating technology from areas where rapid advancement is expected in the future. These include antibody medicines, and genetically modified pharmaceuticals.
Generic drugs business
We ensure the stable supply of generic drugs based on the philosophy of 〝delivering reliable generic drugs to medical practitioners〟
With the growing trends of a low birthrate and an aging society, it is now vital for Japan to establish a sustainable medical system to deal with these issues.
In order to maintain the national health insurance system and counter spiraling health care costs, there will be an increasing need for the wider utilization of generic drugs. We will put even more effort into meeting these societal demands.
High-quality pharmaceutical ingredients create high-quality pharmaceutical products.
In current pharmaceutical manufacture, pharmaceutical ingredients and their quality are becoming increasingly important.
Active pharmaceutical ingredients (API), is the term used globally to indicate the active ingredients of drugs.
The quality standards for generic drugs in Japan are said to be the most strict in the world.
In order to meet the exacting standards of the dissolution tests in particular, it is important to ensure a stable supply of pharmaceutical ingredients with consideration given not only to the chemical quality of the pharmaceutical ingredients but also to their physical properties.
For commodity API, which can be procured worldwide, we conduct optimized procurement based on a global network comprising three companies working together in a strategic capital alliance.
Quality, cost and stability in supply are major considerations. In addition, specialty API, which require unique handling in Japan, are produced by the company API plant in Japan.
For example, the API which require unique handling in Japan include the following:
API with process patent in Japan, substance listed in the Japanese Pharmacopeia with different specifications with USP/EP, API for which the specification of particle size at the API stage is important in order to adjust the dissolution testing for the preparation (such as poorly soluble drugs).
We are committed to maintaining the foundation of pharmaceutical development, namely, the procurement of high-quality material drugs to meet the high standards required of Japanese generic drugs, in order to deliver high-quality generic drugs.